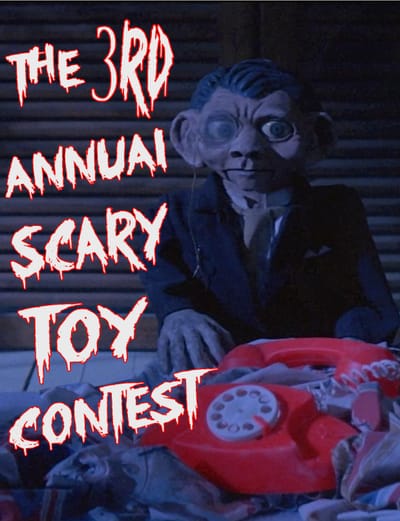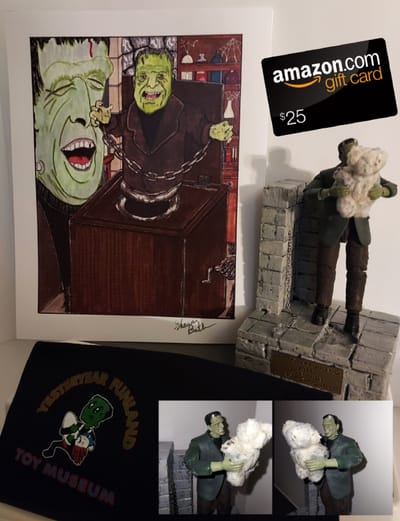 Hello Kiddies!!!It's that time of year again, to announce our 3rd Annual Scary Toy Contest!!!Last year, we had quite the turn out with so many entries.So we decided to up the ante, motivating all to dig deeper into your closets, attics, basements, barns, or sheds, to find that creepy toy that scares the heebie-jeebies out of you!

To Enter

1. Drag out that scary toy with CAUTION, and snap a PICTURE of it. Please make sure your pics are crisp and clear!


2. LIKE THE SCARY TOY CONTEST POST, and follow YESTERYEAR FUNLAND on Facebook!By LIKING this post, and FOLLOWING Yesteryear Funland on Facebook, you will be entered officially in to the contest, linked to all who enters into the contest, read stories of creepy toy tales from around the world, receive the latest updates of our store, toy & pop culture celebrations articles, and Tour Appearances.

3. SHARE your toy directly on the 3rd Annual Scary Toy Contest Facebook posting with a brief comment about the toy.


Official Rules


1. You may enter more than one scary toy.2. You must be at least 18 years of age to
enter contest. If you are under the age of 18, you must get your parent or guardians permission first to
enter.
3. YOUR TOY MUST BE PRIOR TO THE 1990S.
4. No explicit toys of any nature.
5. You may comment on other posts, but please keep it clean.


Its that simple!!!


Sharing of The Scary Contest post will be done twice a week with a creepy toy tale!


Contest ends October 27th, 2022!


Official ruling will be held on Monday October 31st, Halloween Night!


Winner Receives
$25 gift card to Amazon,
Custom Scary Toy Contest 2022 Trophy
A Signed Copied Art Print
Titled: *Herman Munster*s New Toy*
By Illustrator & Co-Founder of Yesteryear Funland
Shawn Butler
Yesteryear Funland T-Shirt

Winner will be privately notified in Messenger!


Please note: Winner has 24 hours from notification to respond. In the event if he/she does not respond, a new winner will be selected.


Following the drawing, Yesteryear Funland will share your creepy toy picture!


We ask the winner to provide a brief little story about the toy!


How you acquired it, and any scary tales it possess?


Remember to LIKE THE SCARY TOY CONTEST POST, and follow YESTERYEAR FUNLAND ON FACEBOOK Kiddies!


Good luck, and let the screams begin!