1963 Easy Bake Oven by Kenner Corporation
Brief History of Kenner
Kenner founded in 1946 in Cincinnati, Ohio by brothers Albert, Phillip, and Joseph L. Steiner, the company was named after the street where the original corporate offices were located, just north of Cincinnati Union Terminal. It was a pioneer in the use of television advertisement for the marketing of merchandise across the United States, beginning in 1958.
The company was purchased by General Mills in 1967. In 1970, General Mills merged its Rainbow Crafts. In 1985, General Mills would spin-off both its Kenner and Parker Brothers toy divisions to form Kenner Parker Toys, Inc. The following year Kenner Parker sold off its Lionel Trains division.
Kenner Parker was acquired by Tonka in 1987. Under Tonka management, Kenner Products was reconstituted as a division. Tonka (including Kenner) was purchased by the toy company Hasbro in mid-1991. Hasbro closed the Cincinnati offices of Kenner in 2000, and Kenner's product lines were merged into Hasbro's.
The 1963 Easy Bake Oven
The Easy-Bake Oven is a working toy oven which Kenner introduced in 1963, and which Hasbro still manufactured as of late April 2016. The original toy used an ordinary incandescent light bulb as a heat source; current versions use a true heating element. Kenner sold 500,000 Easy-Bake Ovens in the first year of production. By 1997, more than 16 million Easy-Bake Ovens (in 11 models) had been sold.
The oven comes with packets of cake mix and small round pans. (Additional mixes can be purchased separately.) After water is added to the mix in the pan, it is pushed into the oven through a slot. After cooking, the cake is pushed out through a slot in the other end.
The first three versions of the famous Easy-Bake oven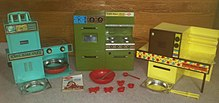 Second version of the Easy-Bake oven - the Premier model - released in 1969.