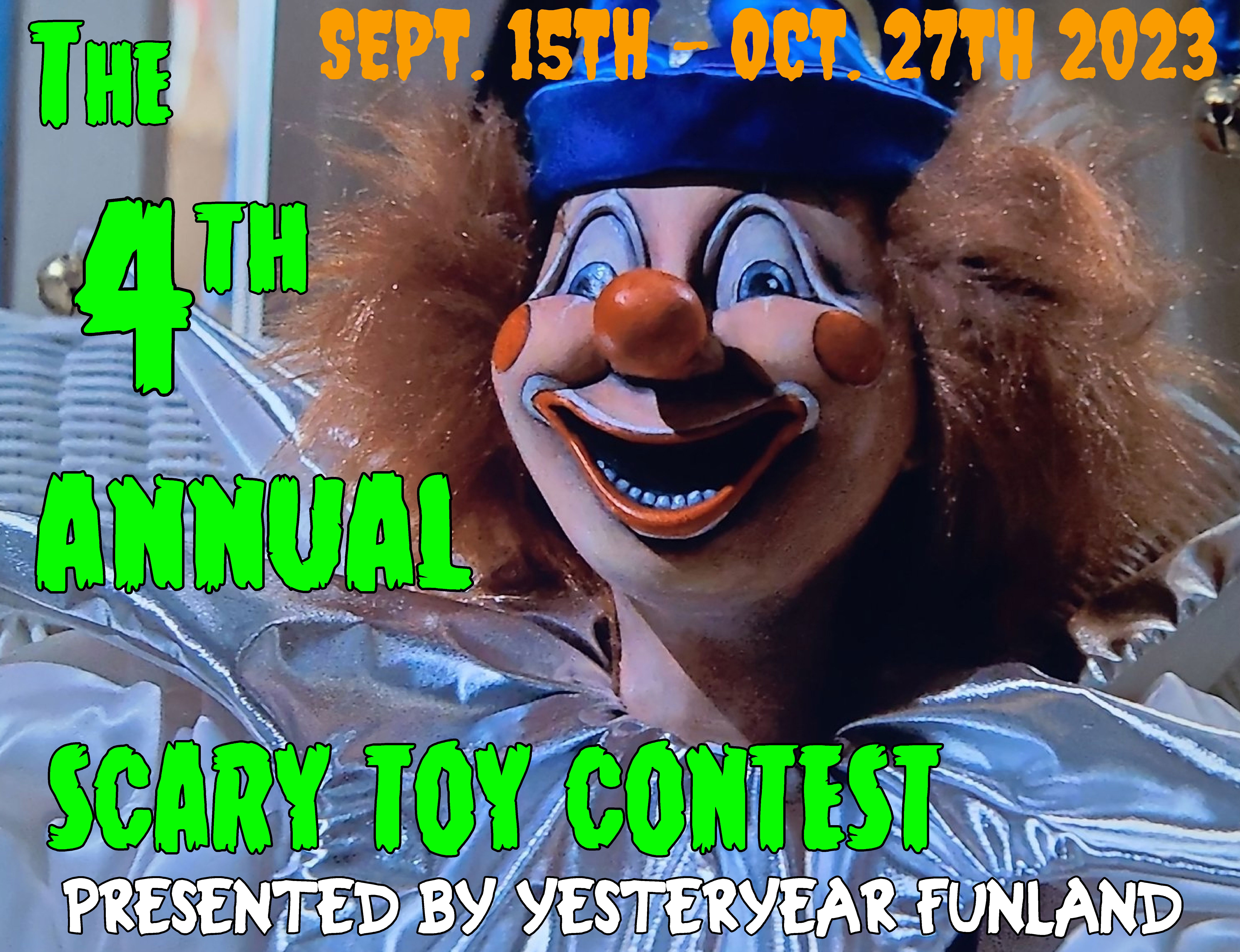 Hello Kiddies!
We are please to announce our 4th Annual Scary toy Contest!
To Enter The Contest, Follow These Three (3) easy steps!

1. Venture into your attic, basement, closest, or shed. With caution, take out your scary toy, dust it off, and snap a clean crisp photo.

2. Email your photo to yesteryearfunland@aol.com.
Note: See Rules 8 & 9 For Email Instructions.

3. Follow & Like our Facebook page.
It's That Easy!

Rules To Enter Contest
No purchases required to enter!

1. You must be 18 years of age and older to enter.
2. One (1) toy per person.
3. Your toy can be anything!
4. Must be appropriate, no photos of inappropriate and/or gore.
Definition: Gore, blood that has been shed, especially as a result of violence.
5. Toy can be home made or store bought.
6. Toy can be from any decade.
7. Your toy can have eyes that open & close, eyes that glow, talk, sing, have hair or no hair, teeth or no teeth, jump, bounce, float, have wheels.
8. All entries must be submitted to yesteryearfunland@aol.com. In subject line, type Toy For 4th Annual Scary Toy Contest.
9. Share a brief description about your toy. Including: A name of your toy if available, how you obtained it, how long you had it, and any scary stories you might have about your toy. Please include your first & last name, and your state initials at the end of your email. Example: Paul Smith, MA
10. All entries will be posted on Yesteryear Funland's Facebook Page. Follow & Like Yesteryear Funland's Facebook Page to see your toy shared, keep up with the latest contestant entries, and read about ghostly toy stories!
11. All entries must be in before 12 midnight on October 27, 2023.
12. Winner will be notified on November 1st 2023.
Note:
If winner does not respond by 12 midnight on November 2nd 2023, a new winner will be selected.

Winner Receives
1. 4th Annual Scary Toy Contest Trophy
2. Poltergeist Clown T-Shirt by TeePublic.com
3. Limited Edition Art Print Titled: Clowning Around by Yesteryear Funland Founder Shawn Butler
4. $25 Amazon Gift Card

Good Luck & May the Best Spooktastic Toy Win!